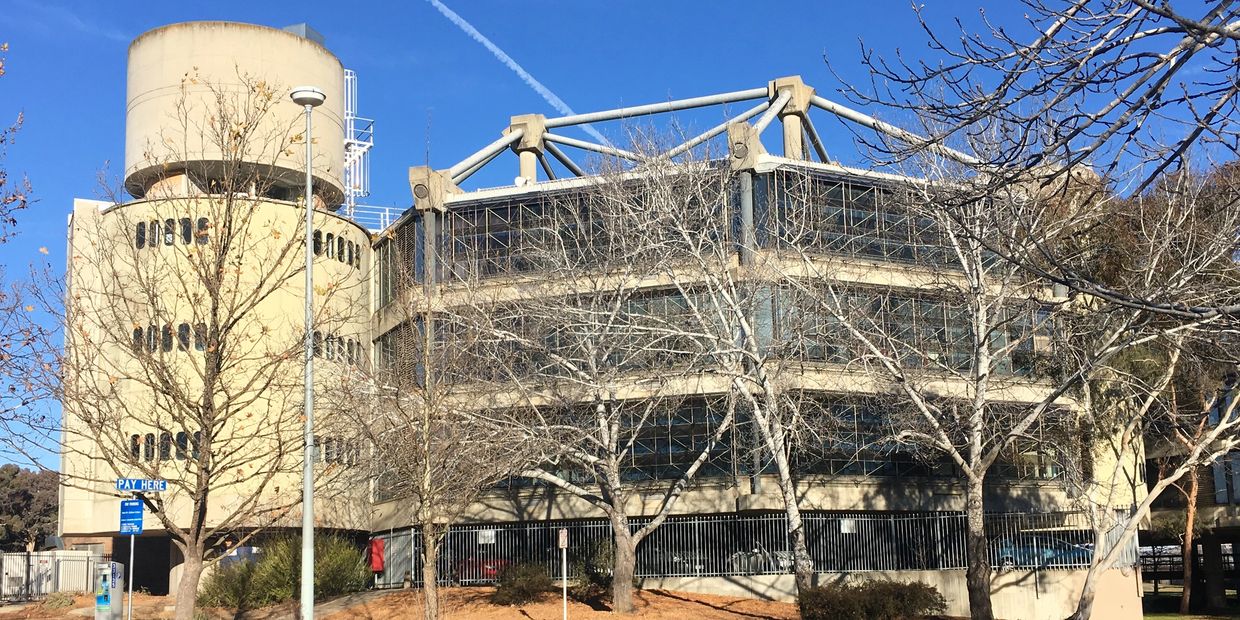 Why Canberra Modern?
Canberra is a young city with a rich architectural legacy. With major boom periods in the 1920s and again from the 1950s-1980s – the architectural aesthetic of the city is eclectic, but deliberately cohesive.
The mid-late twentieth century period of development in Canberra, specifically during the National Capital Development Commission's (NCDC) oversight (1958-1989) has not been widely celebrated or recognised by the Canberra community.
Major developments not only in residential, but civic and community buildings saw the frequent involvement of architects now considered pioneers of the modernist movement, and the construction of a key collection of iconic and unique mid-century buildings in Australia.
Many of these structures, which make an irreplaceable contribution to Canberra, have already been lost and many face risk of being lost in the near future.
So we at Canberra Modern are here to help by engaging Canberra and Australia with their contemporary National Capital.
Top 20 Mid (& Late) Century Modern Buildings
20 buildings might seem a lot, but in a city that grew up in the mid-century period that showcases work from some of Australia's most renowned architects, it is almost impossible to narrow the list to just 20! While many on the list are obvious and iconic, we also wanted to include a few buildings that are lesser known or are at risk of being lost altogether or visually lost in the midst of adjacent developments or inappropriate renovation
National Library of Australia
Parkes Place, Parkes
Bunning and Madden, 1968
NB: Happy 50th Birthday NLA!
---

University House
Balmain Crescent, Australian National University, Acton
Brian Lewis, 1954
NB: the interiors of this building are fab including custom design furniture by Fred Ward – a walk around the rest of ANU will also not disappoint, mid-century gems are everywhere!   
---
Churchill House
AT RISK
Northbourne Ave, Braddon
Robin Boyd, 1971
---

Urambi Village & Wybalena Grove
---

Photo: Darren Bradley
Callam Offices
AT RISK
Callam Street, Woden
John Andrews, 1977-81
NB: Also check out his residences at the University of Canberra and his Cameron Offices in Belconnen
---
 
Giralang Primary School
Atalumba Close, Giralang
Enrico Taglietti, 1976
NB: there are so many Taglietti gems – how about a side trip to the Dickson Library
---

School of Music,
Childers Street, Acton
Daryl Jackson & Evan Walker, 1976
Read the AIA/ATC fiche on the building
---

Edmund Barton Building
Kings Avenue, Barton
Harry Seidler, 1973
---

image: Canberra House
Civic Square
AT RISK
Including Legislative Assembly & Canberra Museum and Gallery
London Circuit, City
Yuncken and Freeman, 1961
---

Colonial Mutual Building
AT RISK
University Ave, City
Civil & Civic and Towell, Rippon and Associates, 1968
NB: this is part of an awesome intact group of commercial buildings on each corner of University Ave, Marcus Clarke
Street and London Circuit
---
Australian War Memorial Annexe
Callan St, Mitchell
Enrico Taglietti, 1979
---
Australian Academy of Science: The Shine Dome
McCoy Cres, Acton
Grounds, Romberg and Boyd, 1959
---
The Benjamin House
Also known as The Round House Gawler Cres, Deakin
Alex Jelinek, 1959
NB: Deakin, and nearby Yarralumla, is full of great mid-century houses, a meander through the streets is lots of fun
---

Australian Institute of Architects Headquarters
2A Mugga Way, Red Hill
Ancher, Mortlock, Murray and Woolley, 1967
Photo: Darren Bradley
St Joseph's Church
Boronia Drive, O'Connor
Kevin Curtin, 1971
---
Australian Parliament House
Parliament Dr, Canberra
Mitchell,  Giurgola & Thorp, 1988
---
Torrens Townhouses and Shopping Complex
AT RISK
Beasley Street, Torrens
Dirk Bolt, 1967
NB: the Burgmann College complex at ANU is also a great example of Bolt's work
---

Anzac Park East and West (Portal Buildings)
AT RISK
Anzac Parade,  Reid/Campbell
Richard Ure, Department of Works, 1965
---
High Court of Australia
Parkes Pl, Parkes
Edwards, Madigan, Torzillo, Briggs, 1980
NB: Of course, next door neighbour and architect sibling – the National Gallery deserves its own mention, but we are out of space!  
---
Swinger Hill Housing
Photo Credits
Library: Darren Bradley
University House: ANU Archives
Churchill House: Darren Bradley
Urambi Village: Canberra House
Callam Offices: Darren Bradley
School of Music: Darren Bradley
War Memorial Annexe: Canberra House
Shine Dome: Darren Bradley
Benjamin House: Darren Bradley
AIA HQ: Canberra House
St Joseph's: Darren Bradley
Parliament House: Australian Parliament House
Torrens Shops: Darren Bradley
Portal: Dept of Finance
High Court: Darren Bradley
Swinger Hill: Canberra House
Other images by Canberra Modern