BUS TOUR: Iconic Bus Shelters of Canberra with Trevor Dickinson
Saturday 13 April – 10am – 12pm. 
Join artist Trevor Dickinson on a bus tour of Canberra's iconic bus shelters – be prepared for some pop-up activities at some stops and some special guests along the way.
==================================
TALK/EXHIBITION: Australian Odyssey: Marion Hall Best and Interior Design in the Space Age
Saturday 13 April 2019 – 2.00pm – 3.00pm
Australian designer Marion Hall Best created avant-garde 'space-age' interiors, drawing on the most innovative designers and materials. What constituted 'space age aesthetics' in Australian interiors? Join design historian, Catriona Quinn as she traces the evolution of the style from 1950s atomic patterns to 1960s and 70s interiors.
The exhibition is open from
March 23-June 15 2019
BOOK NOW
====================================
BOOK SIGNING/EXHIBITION: Total Design: Derek Wrigley and the ANU Design Unit 1954-1977
Saturday 13 April 2019 – 3.30pm-4.30pm
Explore the Total Design exhibition then join architect and designer Derek Wrigley for refreshments in the CMAG foyer. Derek will answer questions about his work in the exhibition and sign copies of his new book,  The ANU Design Unit 1954-1977: Design Awareness in the Modern University.
The exhibition is open from
March 23-June 15 2019
BOOKINGS NOT REQUIRED
=================================
MARKET: Modernist Market at University House
Sunday 14 April 2019 – 10.00am – 3.00pm
Do you love all things mid-century? The Modernist Market is the place for you! Join us for food, entertainment and stalls of clothing, jewelry, home-wares, furniture, books, records and more.  Discover your inner pinup with Miss Cherry Bomb and enjoy a vintage car show and shine. There's something for everyone.
BOOKINGS NOT REQUIRED
=====================================
TALK: Design Nation with Tim Ross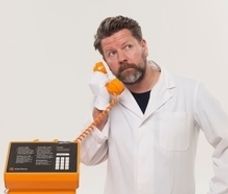 Sunday 14 April – 2.00pm – 3.00pm
Comedian and design nerd Tim Ross brings Design Nation Live, his acclaimed talk to the National Gallery of Australia. Exploring the fascinating and often surprising stories of the invisible icons of Australian design, revealing how our unique design histories have helped shape our national identity
BOOK NOW