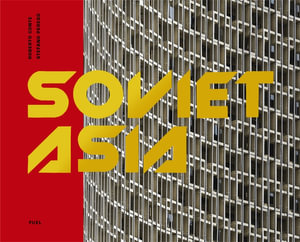 Soviet Asia
Soviet Modernist Architecture in Central Asia
By: Roberto Conte, Stefano Perego, FUEL
$42.50 (Buy Book)
Published: 25th April 2019
ISBN: 9780995745551
Number Of Pages: 192
A fantastic collection of Soviet Asian architecture, many photographed here for the first time

Soviet Asia explores the Soviet modernist architecture of Central Asia. Italian photographers Roberto Conte and Stefano Perego crossed the former Soviet republics of Kazakhstan, Kyrgyzstan, Uzbekistan and Tajikistan, documenting buildings constructed from the 1950s until the fall of the USSR. The resulting images showcase the majestic, largely unknown, modernist buildings of the region. Museums, housing complexes, universities, circuses, ritual palaces – all were constructed using a composite aesthetic. Influenced by Persian and Islamic architecture, pattern and mosaic motifs articulated a connection with Central Asia. Grey concrete slabs were juxtaposed with colourful tiling and rectilinear shapes broken by ornate curved forms: the brutal designs normally associated with Soviet-era architecture were reconstructed with Eastern characteristics.

Many of the buildings shown in Soviet Asia are recorded here for the first time, making this book an important document, as despite the recent revival of interest in Brutalist and Modernist architecture, a number of them remain under threat of demolition. The publication includes two contextual essays, one by Alessandro De Magistris (architect and History of Architecture professor, University of Milan, contributor to the book Vertical Moscow) and the other by Marco Buttino (Modern and Urban History professor, University of Turin, specializing in the history of social change in the USSR).
About the Authors
Roberto Conte works closely with architectural practices, artists and designers, specializing in documenting buildings of the 20th century – ranging from avant-garde and nationalist structures to post-war modernism, brutalism and contemporary architecture.

Stefano Perego began photographing the industrial ruins of Milan in 2006 and has since documented hundreds of abandoned sites across Europe. After visiting the former Yugoslavia he resolved to concentrate on the modernist and brutal architecture of former socialist countries.

Damon Murray and Stephen Sorrell have been publishing books on Soviet culture since 2004 from the Russian Criminal Tattoo Encyclopedia to Soviet Bus Stops.
---
Holidays in Soviet Sanatoriums
By: Maryam Omidi, FUEL, Damon Murray (Editor), Stephen Sorrell (Editor)
$35.75 (Buy Book)
Published: 1st October 2017
ISBN: 9780993191190
Number Of Pages: 192
Architecturally diverse and ideologically staunch, Soviet sanatoriums were intended to edify and invigorate
Visiting a Soviet sanatorium is like stepping back in time. Originally built in the 1920s, they afforded workers a place to holiday, courtesy of a state-funded voucher system. At their peak they were visited by millions of citizens across the USSR every year. A combination of medical institution and spa, the era's sanatoriums are among the most innovative buildings of their time.
Although aesthetically diverse, Soviet utopian values permeated every aspect of these structures; Western holidays were perceived as decadent. By contrast, sanatorium breaks were intended to edify and strengthen visitors: health professionals carefully monitored guests throughout their stay, so they could return to work with renewed vigor. Certain sanatoriums became known for their specialist treatments, such as crude-oil baths, radon water douches and stints in underground salt caves.
While today some sanatoriums are in critical states of decline, many are still fully operational and continue to offer their Soviet-era treatments to visitors. Using specially commissioned photographs by leading photographers of the post-Soviet territories, and texts by sanatorium expert Maryam Omidi, this book documents over 45 sanatoriums and their unconventional treatments. From Armenia to Uzbekistan, it represents the most comprehensive survey to date of this fascinating and previously overlooked Soviet institution.