Republished from the University of Melbourne Website:
Architecture can define a nation. Ten of the University of Melbourne's top architectural experts look at some of Australia's most iconic designs / By Sophie Hill, University of Melbourne
Architecture shapes our cities. It creates iconic skylines, signals great civilisations and builds must-see landmarks which define entire countries.
Architecture has the power to capture imaginations hundreds, even thousands, of years after it was built. Less obviously, it guides and controls our way of living, the way we use space, navigate our cities and create communities.
Many people spend the majority of their lives in buildings and constructed spaces; our homes, our workplaces, our cities. And so, good design can have an enormous impact on our quality of life, public health and the sustainability of our environment.
We caught up with ten of the University of Melbourne's top experts to find out which Australian architectural sites they consider iconic, and why.
1. The Olderfleet to the Rialto, Melbourne, Victoria, 1888 – 1892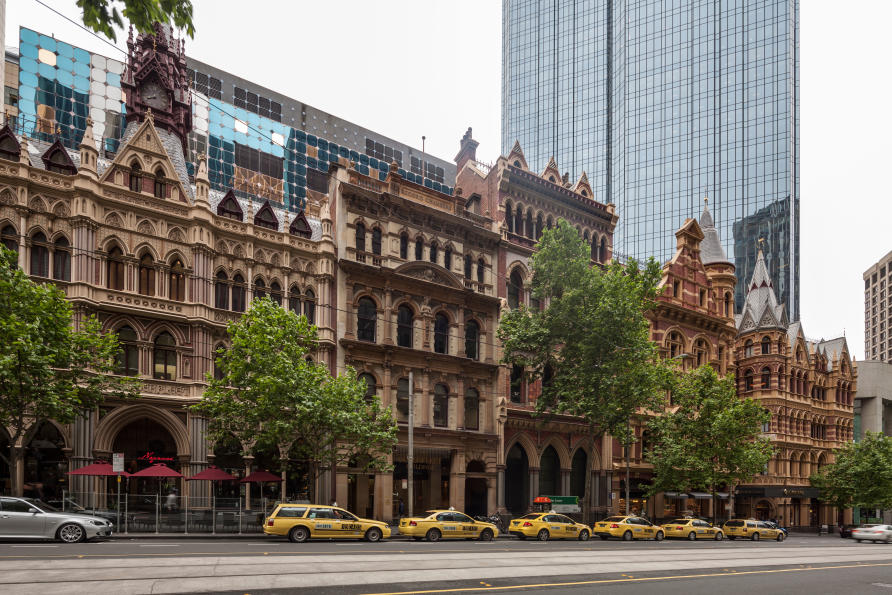 Recommended by Professor Julie Willis, Dean of the Faculty of Architecture, Building and Planning, co-director of the ACAHUCH Research Hub and architectural historian.
"Saved by activism in the 1970s – the so-called 'green bans' – this stand of five buildings on the west end of Collins Street are a remarkably coherent set which exemplifies the ambition and excitement of boom-time Melbourne.
"They were built at the time when Melbourne was the third richest city in the British Empire (after London and Glasgow), and they are distinguished by their wealth of ornament. Yet each building is architecturally distinct: from Gothic intensity to plainer Classicism, with inflections of Northern Italy and Scotland, these are an eclectic riot of colour, tinged with the frisson of experiment and daring."
2. Budj Bim Cultural Landscape, South Western Victoria – GDA 94 Zone 54 577865E 5783992N, dating to approximately 6600 years ago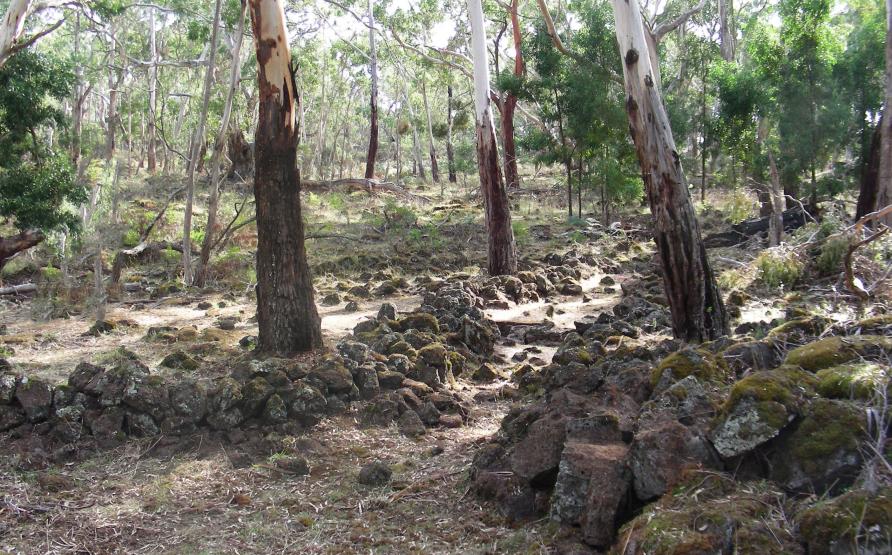 Recommended by Mr Jefa Greenaway, founder and architect at Greenaway Architects, Lecturer/Knowledge Broker at the Faculty of Architecture, Building and Planning, currently reshaping the curriculum to incorporate Indigenous knowledge and perspectives.
"Pre-dating the pyramids, some 3.5 hours from Melbourne exists a cultural gem that many people are not aware of. Following volcanic flows of Budj Bim (Mt Eccles), the traditional owners of the land, the Gunditjmara people, harvested the lava stones to create a sophisticated aquaculture system (to trap eels), as well as permanent stone houses.
"It demonstrates an acute understanding of ecologically sustainable development principles, the environment and a carefully calibrated, spatially organised community.
"Currently included on the UNESCO World Heritage tentative list, this area also debunks some long-held stereotypes of Aboriginal culture as only ever being nomadic and reinforces that Indigenous knowledge systems are deeply rooted in history, understanding and ingenuity."
3. The Sydney Opera House, Sydney, New South Wales, 1959 – 1973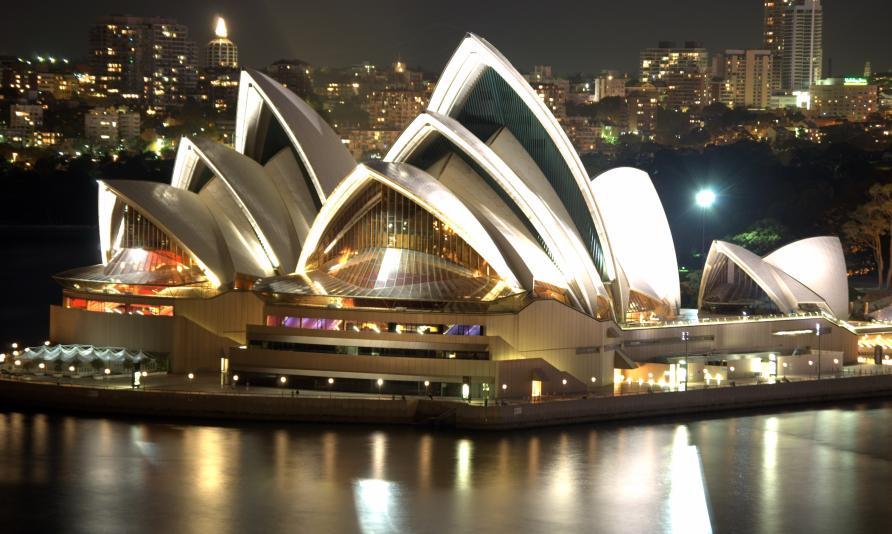 Recommended by Mr Paul Loh, Director of Power to Make, Senior Lecturer in Architecture at the Melbourne School of Design and expert in digital technologies and fabrication.
"The Sydney Opera House was ground breaking from a technological point of view. This building seamlessly combines technological innovation with exquisite detailing.
"It was the first building in the world to use computing to resolve its complex structural calculation, including the first software for analysis roof design. All the structural elegance can be seen in the soffit of the shell structure and under the monumental step that marks the ground floor foyer entrance.
"Renowned architect Frank Gehry aptly described the Sydney Opera House as a building well ahead of its time and far ahead of available technology, a true example of a building that changed the image of an entire country."
4. Shrine of Remembrance, Melbourne, Victoria, 1923 (designed) – 1934 (completed); 2002 (contemporary additions)
Recommended by Dr Rebecca McLaughlan, Research Fellow and design teacher at the Faculty of Architecture, Building and Planning, with an interest in designing for wellbeing.
"In the wake of World War II, we came to understand that memorials are not just about honouring memory, they play a necessary role in communicating complex and confronting ideas.
"Entering the Shrine via the sunken landscape courts – boarded by heavy, dusty red masonry – provides a striking juxtaposition to the original building and one rich in metaphorical readings. It evokes visceral imaginings of suffering behind sand-bagged walls, of bloodshed and futility, and of longing for a distant landscape.
"Encountering the Shrine from below incites humility and gratitude; it reminds me that individual hardships are the intangible stories that sit behind the losses numbered within. As a New Zealander and recent immigrant to Melbourne, the Shrine of Remembrance reinforces the shared narratives that bring us closer together."
5. Council House, Perth, Western Australia, 1960-1963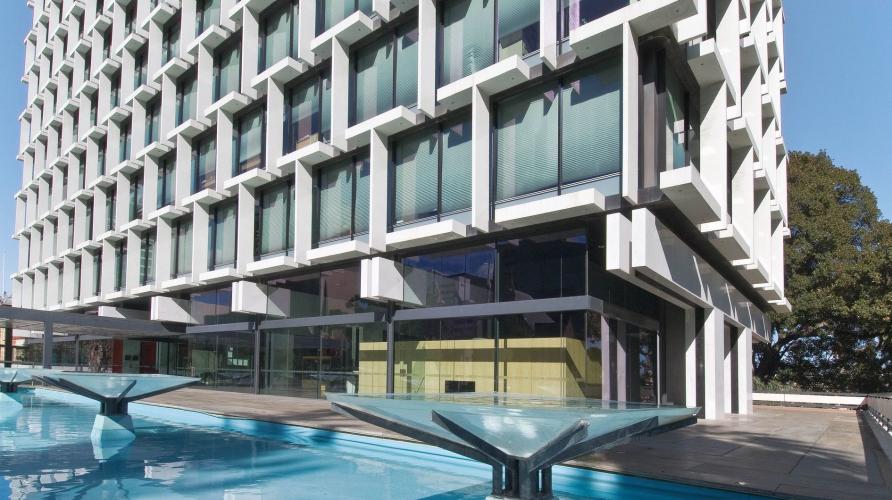 Recommended by Professor Hannah Lewi, professor of architecture and expert in Australian and modern history, heritage, place-making, and new media for publishing history.
"The Council House building in Perth is a rare example of a success story in the conservation of twentieth century Modernism in Australia.
"The glazed entrance and water features, and the façade of T-shaped, mosaic-clad, sun-shading fins, make it a fine example of international Modernism modulated by place and climate. By the early 1990s it was seen by some as an eyesore or simply 'in the wrong place at the wrong time' and faced demolition.
"But due to a vigorous campaign it was spared and sensitively refurbished, and is now hailed as an architectural 'landmark' in the Perth CBD. It still serves the purpose it was designed for as a public building, and won the Enduring Architecture award in 2015."
6.The Academy of Science, Australian National University, Canberra, Australian Capital Territory, completed in 1959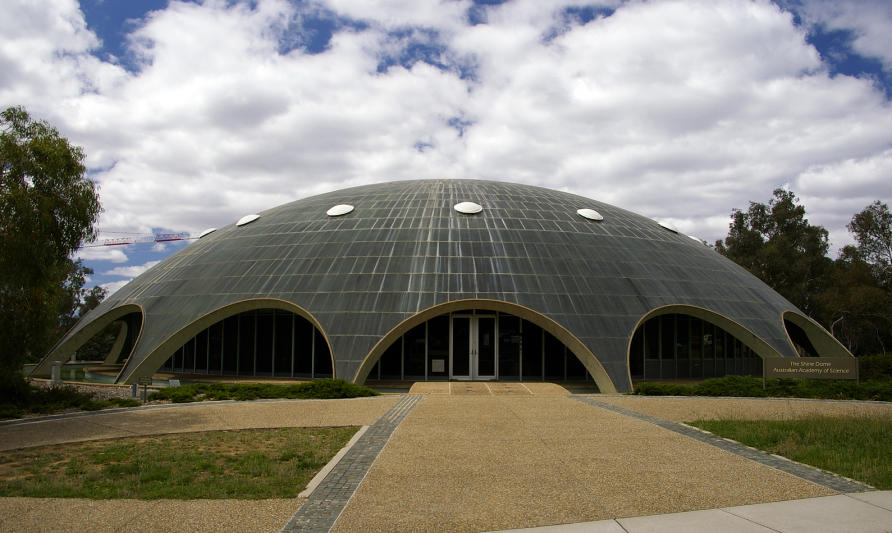 Recommended by Professor Alan Pert, director of NORD Architecture and Director of the Melbourne School of Design.
"Also known as the 'Shine Dome', this structure includes a large conference hall with raked seating, council room, offices and a fellows' room all moulded into a simple circular plan and housed in a concrete, copper-clad dome.
"From the walkway between the moat and the inner walls, the arches provide a 360 degree panoramic sequence of 16 views of Walter Burley Griffin's capital city and the hills beyond. A complex series of acoustic baffles suspended from the ceiling and built into the walls resolved some of the sound issues associated with the circular structure, however, this system resulted in a totally unexpected problem.
"The elegant eucalyptus sound baffles created a form of optical interference, rendering half of the people in the room nauseous. Eventually Dr Victor Macfarlane came up with the idea of filling in the visually offending gaps with strings which fixed the optical problem without spoiling the acoustics. All of the interior details and materials have somehow managed to stand the test of time and, yes, it still works."
7. Baker House, Bacchus Marsh, Victoria, 1964 – 1966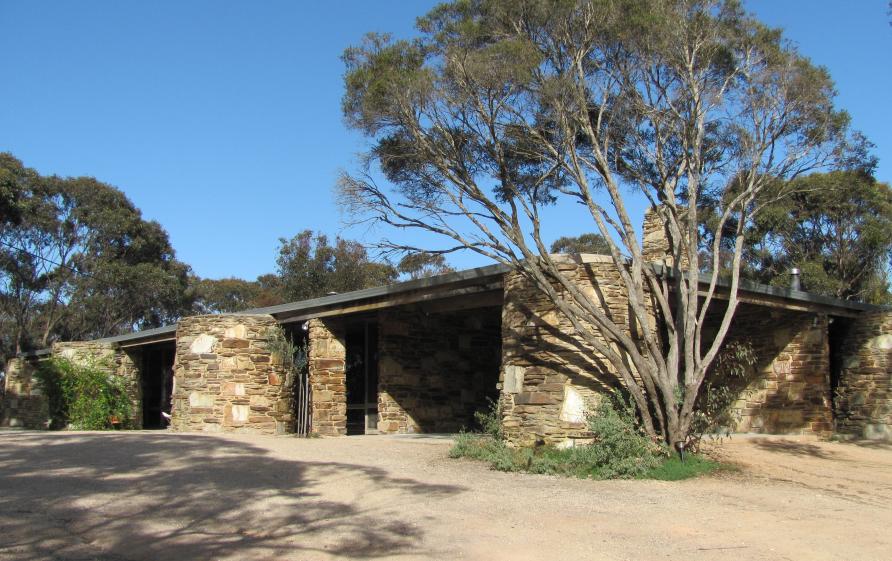 Recommended by Professor Donald Bates, director of LAB Architecture Studio and Chair of Architectural Design at the Melbourne School of Design.
"There is something profound about the geometry of this house, built for a mathematician in the scrub bushlands of outer Melbourne. Simple, but not simplistic; self-evident but full of surprises and unexpected relationships; an ordered symmetry that gives way to profound differences in how the house operates and is experienced.
"A veritable 'ideal' city plan at the scale of a domestic house, the Baker House has to be Mr Boyd's most intellectual and also most natural house. All stone walls, straw ceilings, and concrete floors, the house fuses modern sensibilities without modern materials, concrete floors excepted.
"This radical courtyard house inverts the convention to look inward, focusing instead back out to the bushland surrounds, with the fly-screen covered courtyard flowing only from one side of the internal square. This involution of flows and focus is caught up in the swirl of circular movement that comes from the four major corners of the plan being just off-set enough to squeeze by the solid internal core. Order and geometry at the service of the senses and motion."
8. Eddie Koiki Mabo Library, James Cook University, Townsville, Queensland, 1968 (Stage 1); 1976 (Stage 2)
Recommended by Professor Philip Goad, architectural historian, Chair of Architecture and Redmond Barry Distinguished Professor at the University of Melbourne.
"The Eddie Koiki Mabo Library has a haunting sense of monumentality. It's a great lump of a building.
"I like its over-sized parasol roof, the almost primal circular cut-out windows and the semi-circular porch openings at the building's corners that suggest deep shade and cool retreat from Townsville's dry heat. There's a certain power about this very direct, even crude simplicity: it speaks to the undulations of the age-old landscape which surrounds the campus – big strokes for a big landscape.
"Though for me, it also has an echo of Roy Grounds's National Gallery of Victoria in Melbourne. But in Townsville, it's tougher, even brutal. James Birrell was happy to reference local heroes and then radically depart from them. Its re-naming in honour of Eddie Koiki Mabo in 2008 sealed its iconic status for good."
9. The Phoenix "skinny" Tower, Melbourne, Victoria, 2014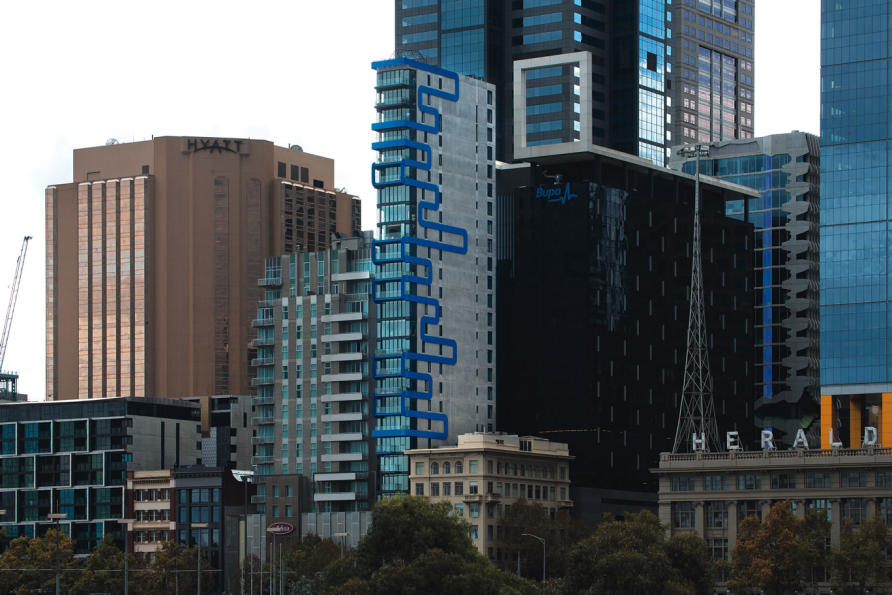 Recommended by Professor Valerie Francis, specialist in Construction Management, civil engineer, Chair of Construction and expert in the field of work-life balance in the construction industry.
"Built on the site of the old Phoenix hotel, this 28-storey apartment building stands on an impossibly narrow block on Flinders Street which is just 6.7 metres wide.
"What is fascinating about this building is that it was built using an innovative methodology utilising a customised concrete 'jump form' system. This system is commonly adopted when constructing high-rise elevator cores; and the way the system has been extended and applied to the building structure on this site is truly fascinating.
"The building was literally extruded, relying on hydraulic action to lift formwork components. In a world increasingly dominated by off-site construction, this building was an exception, triggered by specific site conditions and fueled by local ingenuity. The methodology behind the Phoenix Tower shows that it's possible to achieve soaring building heights, previously thought of as too difficult, for small inner city lots."
10. The Cowra Japanese Garden, Cowra, New South Wales, 1978-1979 & 1984-1986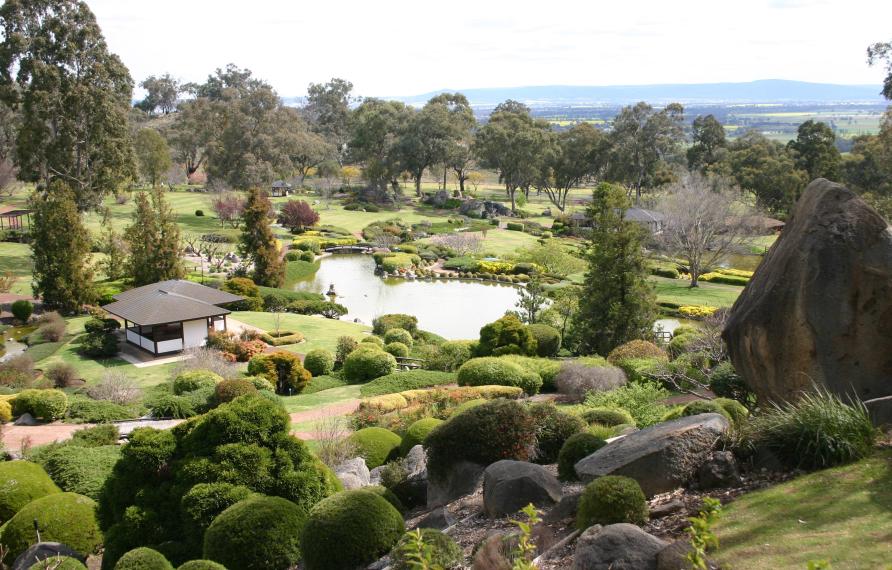 Recommended by Associate Professor Anoma Pieris, architectural historian and expert in South and Southeast Asian architecture.
"The Cowra Japanese Garden is a key site for heritage diplomacy in Australia; a simulation of the Japanese homeland in the town of Cowra.
"Mr Nakajima conceived of it as a place of release for Japanese Prisoners of War fatally wounded during the Cowra Break Out of 1944, and interred in the Cowra Japanese War Cemetery alongside other deceased wartime Japanese internees.
"The kaiyū shiki – strolling garden was initiated by community members led by Don Kibler, a builder trained in architectural drawing and with the support of both the Japanese and Australian government as well as other organisations. The site, with its connection to the Cowra Japanese War Cemetery and the former Cowra Prisoner of War Camp No.12, conveys important messages of pacifism by uncovering less palatable histories of Australia's wartime responsibilities."
Banner image: The Shrine of Remembrance/John Gollings
First published on 12 January 2018 in Design